Ornamental Grasses at Telly's
Ornamental grasses can be a stunning addition to any landscape. Check out our diverse selection!
Hakonechloa macra
'Aureola' (Forest Grass)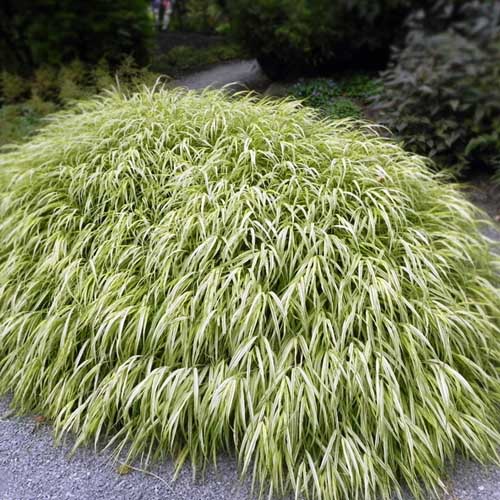 There are a few varieties of Forest Grass out there, but 'Aureola' is the most popular. This variety has vibrant gold and green striped leaves that grow upward and then gracefully cascade…creating what is often referred to as a "waterfall" growth habit.  They are slow to spread but well worth the wait. Established plants are spectacular in front of a shady border. Like other ornamental grasses, Forest Grass provides winter interest.
Panicum 'Shenandoah'
(Switch Grass)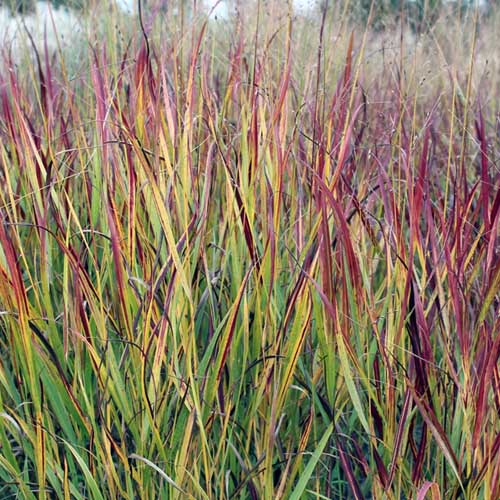 This is one of the hardiest ornamental grasses Telly's offers. In fact, it's so hardy, it's one of the few grasses that might overwinter in above-ground containers. The 'Shenandoah' variety is a relatively short Switch Grass growing only 2-3' in height. Its dense, blue-green leaves form a tight column topped by light green, airy, seed pods.
Miscanthus 'Malepartus'
(Maiden Grass)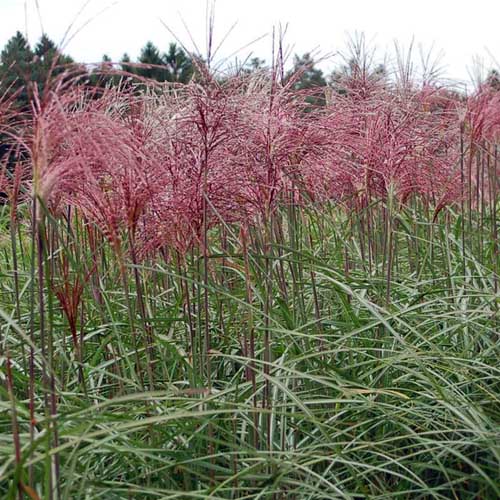 Among the dozens of varieties of maiden grass available, 'Malepartus' really stands out. Why? It has the following desirable features: 1) Its height is 6-7' – perfect for creating a visual barrier; 2) It has spectacular, shimmering, coppery-pink flowers; 3) it flowers in July – earlier than almost any other Miscanthus; and 4) It has a vase-shaped growth habit accented by leaves that form less acute angles with the main stem, thus creating a bamboo-like appearance. Like other Miscanthus, 'Malepartus' spreads slowly and provides beautiful winter interest.
Pennisetum 'Hameln'
(Dwarf Fountain Grass)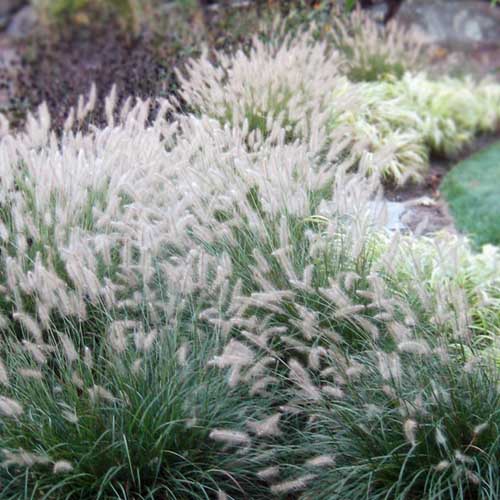 'Hameln' forms a 3-4' tall and round mass of green foliage with late summer bottle-brush flowers that radiate from the center. The desirable texture of this smaller grass makes 'Hameln' ideal for the center of the perennial border. The foliage provides winter interest, but the flowers slowly shatter through the winter months.
Pennisetum
'Burgundy Bunny'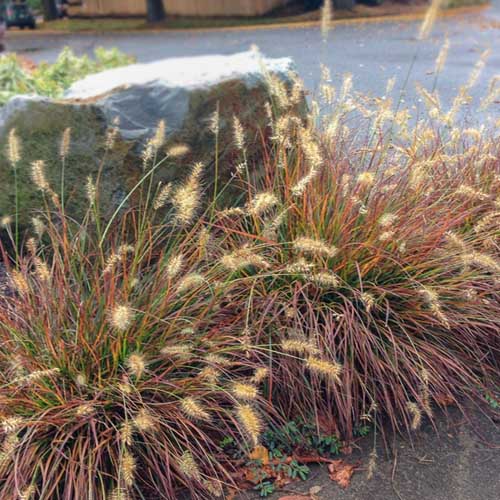 This adorable Fountain grass is even smaller than 'Hamlen' (12-16" tall and wide­) and has a combination of green and burgundy leaves. Its size, color, and texture make it an ideal companion for other small perennials in the front of the border.
Miscanthus 'Gracillimus'
(Maiden Grass)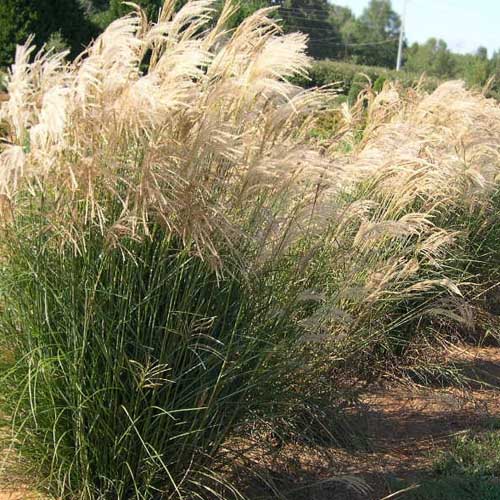 Gracillimus' is a 4-7' tall plant that forms dense masses of narrow, green leaves.  Plants eventually become more rounded rather than vase-shaped. It produces pretty pink to red flowers from September to October. Its foliage becomes yellow to orange in the fall, and tan in the winter.
Calamagrostis
'Karl Foerster'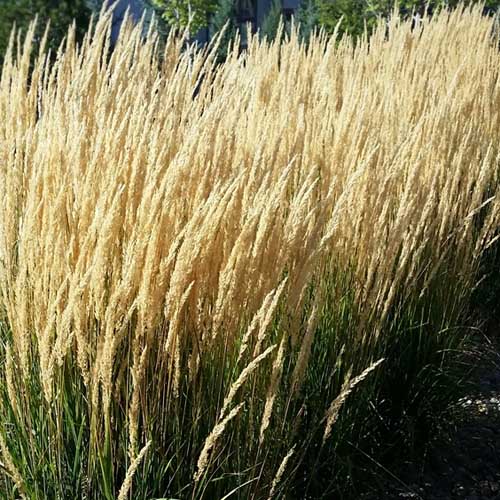 'Karl Foerster' was the first ornamental grass selected by the Perennial Plant Association as its Perennial Plant of the Year. Why? 1) It is tidy and perfectly upright; 2) It develops flowers in early June…several months earlier than most grasses; 3) Its flowers last all summer, fall and winter; and 4) It is extremely hardy. 'Karl Foerster' forms 4-5' tall clumps that spread slowly and maintain a stiff, upright habit.
Helictotrichon
(Blue Oat Grass)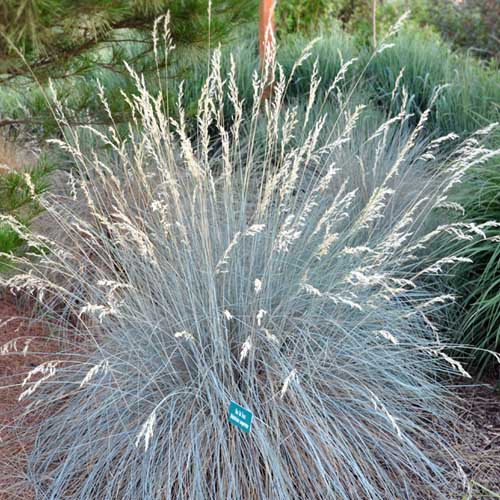 The foliage of Blue Oat Grass actually stays alive year round. The upright blue foliage of this plant only grows 2-3' tall and does not require pruning in early spring. While severe winters may damage some of its evergreen leaves, fresh leaves will always emerge in spring. Insignificant flowers are produced in June.
Pennisetum 'Red Head'
(Fountain Grass)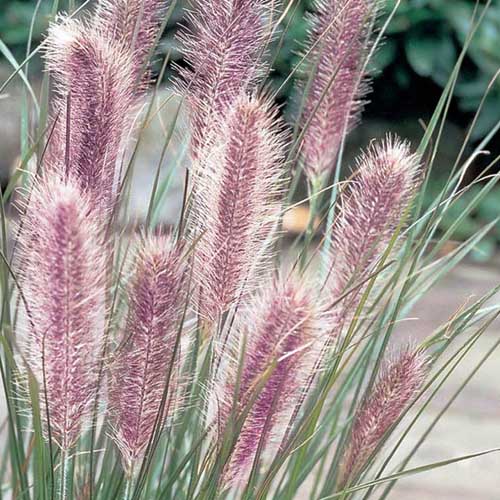 This fountain grass grows 4-5' tall. This vase-shaped grass produces extra-large, reddish-brown bottle brush flowers. This relatively new grass has become extremely popular because of its impressive flowers and formal appearance.
Miscanthus 'Dixieland'
(Variegated Maiden Grass)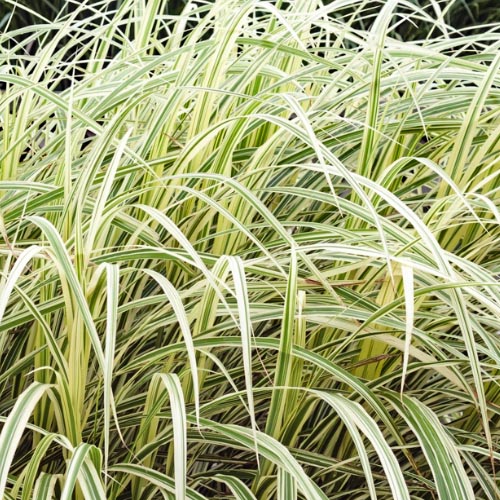 This Miscanthus is a virtual beacon in any garden. Established, vase-shaped clumps of these vibrant green and white variegated leaves draw attention anywhere in the landscape. The tidy clumps are only 4-5' tall. 'Dixieland' flowers develop in early fall and persist above tan foliage all winter long.